Introducing ASC's Ladies Car Care Course
Do you struggle with basic car maintenance? Have you been ripped off or made to feel silly by a mechanic? Do you feel overwhelmed or a bit uncomfortable asking about what you should be doing to maintain your car?
Ashbury Service Centre understands this which is why we have launched our Ladies Car Care Course. This 2 hour course is designed to empowered women in the area of car maintenance in a supportive, judgement free space. It's advised that you bring the vehicle you drive on a regular basis to ensure you learn on the car you actually drive.
What you will learn:
How to maintain your car in between services
How to save you money by ensuring your car is well-maintained
Ensuring you have the knowledge so you are never ripped off by a mechanic again
You'll open the bonnet of your own vehicle and learn all the basics of what you're looking at. You'll learn how to change a tyre, check the oil, top up fluids and check tyre pressure. You'll learn why regular servicing of your car is so important. You'll learn what all that 'mechanic speak' actually means in everyday terms you can understand.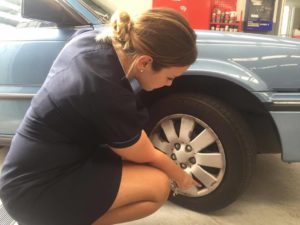 Never again will you be left stranded simply because of a flat tyre. Never again will you run the risk of causing more damage to your car because you're unsure of how to top up the fluids. Never again will a mechanic bamboozle you with technical terms and an overinflated quote. Never again will you feel out of your depth or overwhelmed getting your car serviced. After completing the Ashbury Service Centre Ladies Car Care Course course you will be in the driver's seat and in control of your driving future.
Our course is taught by a fully qualified and experienced mechanic. The Ladies Car Care Course is conducted in our state-of-the-art workshop in Canterbury, Sydney, so it's safe, secure and will go ahead regardless of the weather on the day. We even provide tea and coffee!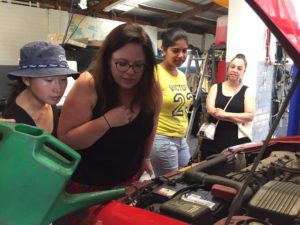 'It was great having the run of the garage. Everyone moved carefully around the equipment and were in safe hands with Manuel, Nicole and Danny. It helped me break down barriers between myself and the mechanic's workspace, which I think will help me be more confident in asking questions about the work being done on my car.' – The Fast and the Fabulous – Ashbury Drift via Lucinda Writing Works
Courses are strictly limited to small groups to ensure quality and the opportunity to ask as many questions as you like so that you leave feeling comfortable, empowered, in control of your driving future.
Cost: $79 per person and includes a free safety check on your vehicle (valued at $41), which can be used within 12 months of your course.
Duration: 2 hours
Location: 22 Charles Street, Canterbury
Time: 2-4pm
Upcoming dates/times:
14 March – 2-4pm
5 September – 2-4pm
28 November – 2-4pm
If none of these dates suit, please register below to be notified of upcoming courses as they are announced.
ASC's Ladies Car Care Course Gift Vouchers are available and make a great:
Congratulation on getting your driver's licence gift
Birthday gift
Christmas gift
We gladly welcome groups of mothers and daughters, girl's day out, bridal showers with a difference and inner west Sydney local school students and mothers groups. ASC's Ladies Car Care Course is provided by a local, award winning small business which is family owned and operated.
Ashbury Service Centre is happy to consider running a mixed course should there be enough interest – perhaps for the new teenage male drivers in your family or the male who has simply never been shown. Just get in touch here to enquire.

Click here to purchase a Gift Voucher which you can email online direct to anyone of your choice or to yourself. This can be redeemed online when making a course booking automatically. ASC's Ladies Car Care Course gift vouchers are valid for six months from the date of issue.