14

Valentine's Day Gifts for Car Enthusiasts
If you are looking Valentine's Day inspiration for the special car enthusiast in your life, then look no further. The team at Ashbury Service Centre has searched high and low to compile the best Valentine's Day Gift Guide to get any car lover's heart racing.
We have everything covered for him or her, whether you want to gift something small, something luxurious, or want to make a big declaration of love…
1. Self Drive Ferrari Experience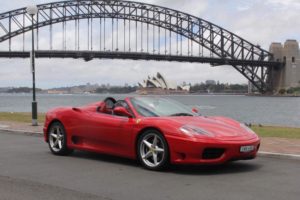 Have you ever dreamt of driving the open road in a red hot supercar with your loved one? You can now turn this dream into reality by hiring a Ferrari 360 Spider brought to you by Fuga Veloce's self drive packages… it's enough to get anyone's heart racing!
The luxurious Ferrari is red (because let's face it, red cars go faster) and embodies everything Valentine's Day is about – enjoying the company of the your loved one whilst embracing the journey even before you get to your destination. As they say – the journey is just as important as the destination.
Packages start at $630 for five hours or you can go the full monty and whisk them away for the whole weekend. Not only does your other half get an experience of a lifetime, but you do too! Keep an eye out on our facebook page for an giveaway of a lifetime!
Learn more at http://fugaveloce.com.au/
2. Car Photography
So you are in love with someone who loves their car? Like, really loves their car?
How about organising a session of professional photography capturing the love of your lover's life? They will be proud as punch when someone like Aaron Lam takes the time and passion to create a masterpiece for your wall that will be talked about for years to come. Aaron's passion for cars started at the tender age of three with his first car, a 'BMW' push car (I'll be honest, we may have had a few of those in the family!) and you can if you have a browse of his gallery you can see why he's so popular amongst car enthusiasts. Capturing the masterpiece as a whole and even the finer details that can easily be overlooked by an everyday person.
Learn more at http://www.alphotography.com.au/automotive 
3. Chocolate Car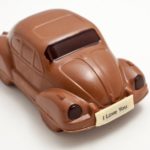 We know that often the best way to a Valentine's heart is with chocolate – it's always a winner – even if they are a car enthusiast! This one is perfect if the special one in your love appreciates the the 'Bug' and also enjoys some indulgence. Check out this awesome Volkswagen Beetle moulded in a smooth milk chocolate for only $32.50.. If you look closely, it's number plate will say it all!  Chocogram is known for its handmade creations made with premium, high quality chocolate. It may be too good to eat, but if they do decide to bite into it, remind them that sharing is caring. These guys will also deliver the next day if you place your order by 3pm! (Perfect for those late organisers) 😉
Learn more at https://www.chocogram.com.au/volkswagen-car-sales-i-love-you
4. Phone magnet vent mount
This nifty device is not only thoughtful, but convenient and also promotes safe, hands free driving.
The sleek, sophisticated and timeless design is compatible with most air vents. Once you place the included magnet pad on the inside of your phone's case and attach the magnetic clip to the air vent, it  easily mounts your phone to the car's air vent allowing hands-free access to your phone while you drive. This will allow your Valentine to keep chatting you whilst using GPS to locate the hot new spot they'll be taking you as a thank you.
Our friends at Maxime Technology are offering a welcome discount, all you need to do is enter the code 'ascfriend'. At this price, you can get one for yourself AND your partner!
Learn more at https://www.macgear.com.au/products/satechi-magnetic-vent-mount
5. The Car Book: The Definitive Visual History
This book stylishly shows you everything your Valentine might want to know about the history of the automobile (or simply confirm their knowledge!). It's stylish cover will decorate any coffee table and double up as ice breaker in any home. It has the perfect balance of images and text it's perfect as a flip through book where one appreciates photography or one that immerses themselves in history. It covers the technological and developments and manufacture of cars, but also the cultural backdrop against which the various models arose. Do you know how Porsche and Chevrolet became household names? You will by the time you finish this book. An absolute must for any car lover!
Learn more at http://www.betterread.com.au/book/the-car-book-book-9781405361750.do
6. The Car Safety Kit – St John
Show your Valentine how much you care about their health, safety and well-being with the St John Car Safety Kit. It includes everything you may need in case of an emergency including a Therapeutic Goods Authority First Aid kit with high quality items to treat injuries common to motor vehicles. It also includes items that are mandatory to be kept in car throughout Europe, a high vis safety vest and triangle to protect you and keep you safe at the scene of an accident.  In comes in a handy kit with strong velcro  strips to keep it in place and secured within your car. This is the gift that keeps on giving – you will be supporting an established not for profit organisation and keeping your loved ones safe on the road.
The Safety Kits retail at $57.75 but if you get it through ASC you can get it for $10 off – while stocks last.
Learn more at http://www.stjohnnsw.com.au/st-john-just-in-case-car-safety-kit/  
7. Ladies Car Care Course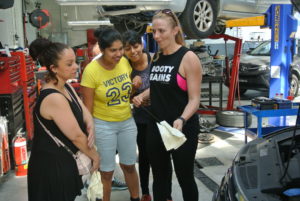 Give the lady Valentine in your life the gift of confidence. The ASC Ladies Car Care Course has been created by a woman for women. This 2 hour course is designed to empowered women in the area of car maintenance in a supportive, judgement free space. She will learn how to maintain her car between services (if she so desires), be confident in taking the car to a mechanic without being ripped off and she'll even learn how to change a tyre so won't be relying on roadside assist – or you!
Hands will get dirty, but confidence in and around the car will be boosted. The inside of a bonnet will no longer be foreign and all those terms mentioned during 'mechanic' speak will be as clear as her first language. The course is only $79 and that also includes a free e safety check valued at $40 which is fully transferable. This is a gift that keeps on giving!
Learn more at http://ashburyservicecentre.com.au/ladies-car-care-course/
8. Dent Boss
Whether you're responsible for the dent in their car or not, and it's been on the radar to repair for a little longer than they'd like, then Dent Boss is the perfect Valentine's Day gift for the car-proud.
Dent Boss is a family-owned and operated business specialising in Paintless Dent Removal and Hail Damage repairs in Sydney. It works out to be a fraction of the cost then turning to a smash repairer for a complete overhaul and if you have a browseof their work, the results speak for themselves. They pride themselves on providing the highest quality paintless dent removal and exceptional customer service. Your Valentine will no longer be standing in front of the damage to smile in pictures displaying the car, but instead will proudly stand by the car to show the car in its completeness with no damage. The best thing is that Dent Boss are flexible and convenient – the work can be completed in the workshop or at your home or office. Gift vouchers can be organised and you can get a quote as easy as sending them an image of the damage. The car lover will love you for life (or until that next dent!)
Learn more at http://dentboss.com.au/
9. Old Iron Detailing and Maintenance Gift Pack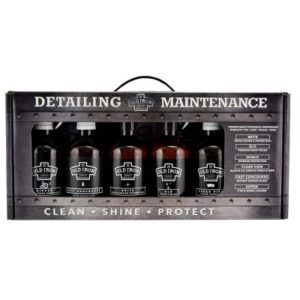 We simply love the origins of Old Iron dates back to the 1930s with a long history of  custom formulating cleaning products for automotives. So you can be confident their chemists have worked long and hard to bring about the very best products with only quality ingredients to help bring that project back to a shining life. It's not everyday you come across products that are doing their bit for the environment with natural occurring ingredients and still able to produce a  impeccable results. If your Valentines takes pride in keep their project, whether its a classic or fresh off the stand, this pack has everything your Valentine needs to keep their car in top condition. This gift pack includes metal alloy and chrome polish, premium paint polish, interior protector, glass and surface spray, instant surface gloss, tyre and wheel cleaner, and a micro-fibre cloth. Shipping is free for a limited time!
Learn more at http://www.oldiron.com.au/products/product/58-gift-box
10. Speedometer Cufflinks
This is a Gift that perfect for a car enthusiast by night but wears suits by day. The Speedometer Cufflinks come in three designs all based on a car speedo and can be subtlety personalised with a special date in the mileage gauge. It can be celebrating this special Valentine's Day or perhaps the day you first met.
You can select the style depending on whether the Valentine appreciates the classic car, vintage or sports car. Receiving a set will exceed all expectations. They can literally wear their heart on their sleeve whilst they go about their daily work and will be thinking of you (whether they intended it or not!). They can also be worn for special occasions due to their quality and elegant design.. Designed exclusively for Me and My Car the personalised Speedometer Cufflinks make a perfect gift this Valentine's Day.
Made in England each set is individually created to ensure that the date appears in the correct proportions and is hand-finished by our specialist jeweller.
PS. If you join Hard to Find you'll get $15 off.
Learn more at https://www.hardtofind.com.au/123755_personalised-speedometer-cufflinks
11. Car Detailing
When researching items for this Gift Guide one of the most requested Gift was a actually their vehicle detailed. A Car Detail is often organised when you welcome the new love into your life or when the time comes to farewell it. A detail will bring a new lease on the car's life (and perhaps even your relationship?! 😉 The Team at Imperial Detailing have a tare highly trained mobile technicians who specialise in a wide range of services. They can come to your home, workplace or even to ASC once the car has been services.  
As Gtechniq and Swissvax authorised Detailers they don't settle for anything less than quality, efficiency and great service so you know the vehicle will be in great hands. They are also happy to provide any advice you or your Valentine need to continue to maintain your Car. If you are in doubt this Valentine's Day, give them a call and organise that detail. No one will be disappointed!
Learn more at https://www.facebook.com/ImperialDetailingPtyLtd/
12. Autodromo Stradale Automatic Watch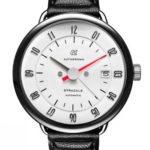 Got a decent budget in order to spoil your Valentine this year? This watch is quite honestly, beautiful.
The truth is, a timepiece of this quality will become a family heirloom. Those who appreciate watches and love cars will forever be grateful for the thoughtful gift. The Autodromo Stradale draws inspiration from dashboard instruments from Italian sports berlinettas Even the custom designed leather strap makes reference to the luxurious and colorful interiors of the time. As with all of Autodromo watches, the Stradale arrives in beautifully conceived packaging evoking a road trip in Northern Italy circa 1960, complete with vintage-inspired map hand stamped with your purchase date.
We are pretty certain that any Valentine will be over the moon with a gift like this, it breathes elegance, quality and makes a statement at the same time. Want to be my Valentine?
Learn more at http://www.autodromo.com/watches/stradale-automatic/
13. The Italian Job
We are going back to bases with one, if you have a car fanatic but getting time away is hard, why not make the most of a Valentine with some pizza, wine and a viewing of the original Italian Job?  You can even do this whilst the kids are asleep.
You can join Michael Caine and his gang of crooks for the ultimate British caper movie packed with fast cars, beautiful girls and Swinging 60s action. It sets the scene with film filled with adrenaline, drama of course, the classic cars as eye candy. Could it be any better?
It's a favorite movie amongst car AND movie lovers. Sometimes we are always in the fast lane trying to keep up when all we need is some time to slow down, unwind and relax. Have that night in and enjoy the company.
Learn more at https://www.booktopia.com.au/dvd-movies/the-italian-job-1969-/prod9317206041340.html
14. Scentsy Car Bars
If you are on a tight budget this Valentine's Day – then there is no problem – these Scentsy car bars are the perfect! There is a range of scents to choose from, our favorite being the 'Summer Holiday' scent with  lush plumeria, tiger lily and sweet orange softened by vanilla and radiant amber. It's the next best thing to actually being taken away on a summer holiday 😉
Whether you Valentine Day only drives to and drop school pickups or whether they are on the road for most of the day, hopping into a car with a gorgeous scent will make all the difference. The best part is that these car bars last a whole month! We like to consider it as an extended Valentine Gift 😉
Learn more at https://scentsy.com/product/search?query=car
Whatever you do, wherever you go, whichever gift you choose – hope you have a lovely Valentine's Day from the entire team at Ashbury Service Centre.