9

Top Tips to Prepare for a Roadtrip
Nothing says Australian summer quite like planning some road trips along the way.
With a long weekend on the horizon we thought we would give you our top tips before you head on the road with your family. Here are the ASC top tips to ensure your trip is as smooth as can be this summer.

1.Tyre Pressure
Use a pressure gauge to check the tyre pressure before you set off. If you don't have one just pop into any local servo and use theirs. To find out the recommended air pressure check the owner's manual. If you have a newer car have a look for a sticker on the inside of the petrol door. Tyres with low pressure run the risk of a blowout and decrease fuel economy.
2.Check Oil
Make sure that the oil is topped up and its quality is still of a high standard. What you want to see is a transparent olive oil consistency rather than gluggy texture. This texture can affect the oil being distributed effectively through your engine causing significant damage and affect the engine's moving parts.
3.Roadside Assistance
Keep a copy of your current documents in case they are needed. Having that number handy to connect you directly to a tow company will save you a lot of trouble should you find yourself in a sticky situation.
4.Get Organised
Nothing says your vehicle is ready to head on a roadtrip like a qualified mechanic. If you are organised, book your car in for a service with a few days leeway should there be any unexpected issues. Servicing should be done on a regular basis to maintain your car and it will save you money in the long run. It will also give you peace of mind that it's been professionally looked over.
5.Prepare for an Emergency
Make sure that you everything you may need in case of an emergency. You can start by having a Car Safety Kit which includes the necessities such as a First Aid Kit, Safety Triangle, high vis vest, and a few other essentials. Call us to find out if we have any in stock. Some bottles of water, a torch, and muesli bars are also a good idea.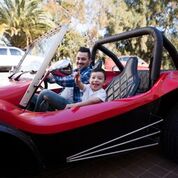 6.Be Kid Smart
If you have children you know this is an important point. Have enough drinks and snacks that are easily accessible and organise some games, DVDs and/or music to keep it enjoyable for all. A little stuck? Have a look at FuelBox for Families – it will fuel meaningful (or entertaining!) conversations for many kms to come.
7.Learn How to Change a Tyre
Unfortunately a flat tyre happens when we least want it to. Having roadside assistance is handy, but if it's something you can easily fix in under 15 minutes it's certainly better to gain that skill than wait around for hours. Ask a family member, or friend, or better yet, book into one of our classes and you'll leave feeling like a much more confident driver.
8.Air Conditioning
If you want your journey to be cool, then take note of your air conditioning. Is it as strong as it used to be? Does it stop / start? Do you sneeze when it's on? Get a technician to have a squizz. You want the journey to be a cool one, particularly during summer; not to resemble a steam room. Also keep in mind that if you are traveling at a speed of more than 90km per hour, it's actually more economical to turn the a/c on rather than winding down the window.
9.Pack Smart
Just like another other form of transport, all cars have a recommended load weight. The easiest way to pack is to first empty your car of anything that you may not need (umbrella? gym bag?). The importance of not overloading your vehicle is often overlooked. But, it can cause enormous stress on your tyres and they can bulge and blow out. Your suspension can be compromised and more weight equates to more fuel being used. Check your vehicle's owner's manual for its recommended carry load.
Over to you, do you have any other tips you find useful before heading on a roadtrip?
If you need a service before your next roadtrip – even if it's a short one – just contact the team at Ashbury Service Centre.