Here at Ashbury Service Centre, we take pride in delivering outstanding service and quality of work, as well as being an active part of our local inner west community. We're happy to support local organisations who share our values.
One of those organisations is Western Sydney Women (WSW), the first and only group to advocate for all women who live and work in the Inner West, Greater West, North West and South West of Sydney to become financially independent and grow in confidence. Their mission is to be the inspiration and voice for women in our area.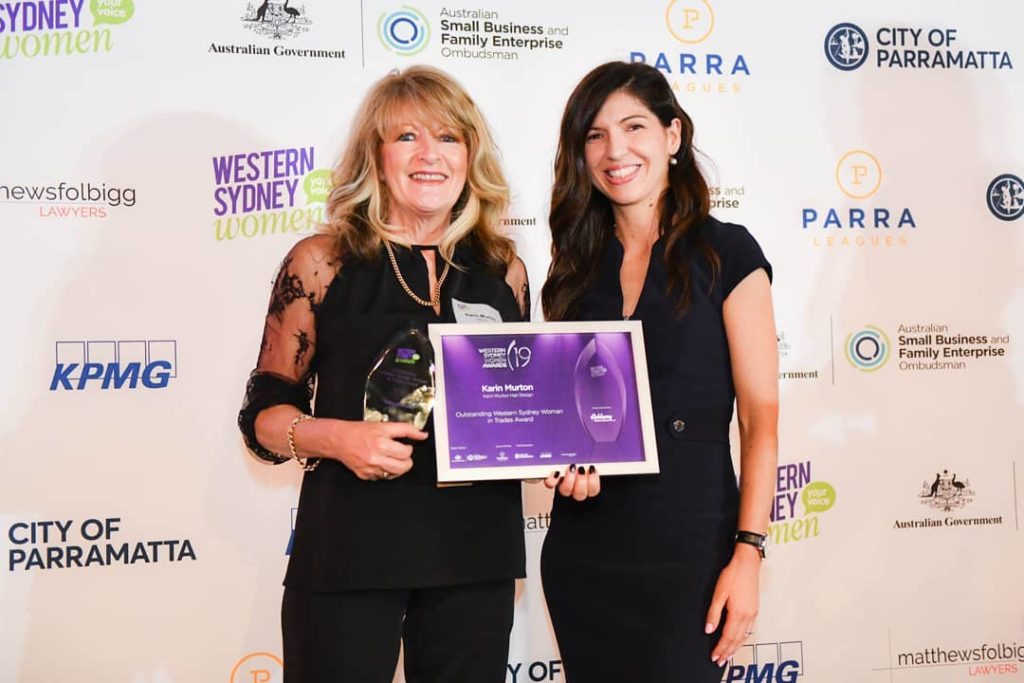 WSW runs free workshops to prepare women for job readiness, navigate toxic relationships and managing money while growing financial literacy. The organisation also provides ongoing support and access to free resources with their social media platforms, including their Facebook page which reaches over 400,000 women each month. 
Once a woman is equipped with confidence, connected to resources and provided with support, nothing can stop her from achieving greatness.

– Amanda Rose
Our support for the Western Sydney Women Awards 2019
Western Sydney Women hold annual awards which are FREE for all women to enter. Ashbury Service Centre proudly sponsored the Outstanding Western Sydney Woman in Trades category of the 2019 WSW Awards.
This particular award recognises excellence in a woman who either works in a trade or runs a business in the trades. The judges were seeking entrants such as:
Women excelling in business;

Inspiring female role models;

Women who have demonstrated excellence in their career and elsewhere;

Women who have made significant contributions in their community; and;

Women who have made a difference to Greater Western Sydney.
The awards presentation ceremony was held on the 15 October at the Parramatta Leagues Club. The event was opened by Kate Carnell AO, Australian Small Business and Family Enterprise Ombudsman and attended by representatives from KPMG, Matthew Folbigg Lawyers and the City of Parramatta. The venue was at capacity with 200 attendees from a range of businesses and the local community. 
Media coverage of this awards night included a story by the Daily Telegraph, with a double spread feature congratulating the winners to be published in the Summer 19 issue of Greater Living Sydney magazine.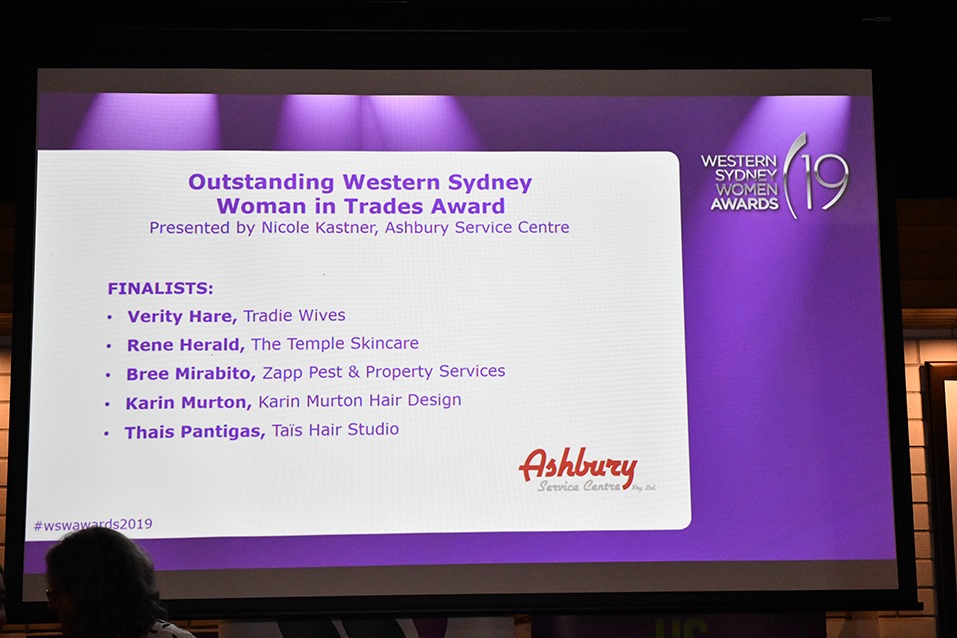 The finalists for the Outstanding Western Sydney Woman in Trades category were:
 … And the winner was: Karin Murton, Director, Karin Murton Hair Design!
We congratulate Karin, a most worthy winner who has put over 39 apprentices through the trade – an amazing effort. 
We'd also like to extend big thanks to Sebal Grafix, who organised our pull up banner for the night. 
ASC is proud to be involved in the initiatives by Western Sydney Women and we look forward to what the future brings.
How Ashbury Service Centre became involved in the Western Sydney Women Awards
As part of our commitment to community service, our co-founder, Nicole leads community initiatives such as Share the Dignity and engaging the local Men's Shed to create a local Little Library, in addition to supporting Western Sydney Women. 
Nicole also created and runs a successful Ladies Car Care Course, aimed at educating and empowering women to feel more comfortable in and around their car.
In 2018, Nicole was thrilled to be named a finalist and then won the Western Sydney Women's Outstanding Woman of the Year award for all her contributions to business, the automotive industry and our local community. 
We have always worked with the mantra of treating every customer as family. As a result, we have seen the community embrace us and we are very humbled by their support. It is our honour to be able to give back to them.
As some of you may know, Nicole established Ashbury Service Centre in 2010, together with her brother Danny and father Manuel. The business was originally set up in an old beaten up workshop, and Nicole and her family have since built the business into the successful enterprise it is today.
Nicole shares the ASC story … 
When we started out, I manned the customer service desk, while my younger brother Danny and my father Manuel were the two mechanics.

After a lot of hard work, dedication and a focus on quality workmanship, the word of mouth started to spread, and our workload increased. We were able to purchase a building around the corner a few years later, where we set up shop.

That is where we really started to succeed and grow. We now have a team of four on the floor, including a full-time receptionist and a great base of return clients; we are being recognised for awards sponsored by the likes of KPMG and nominated alongside huge names like the Western Sydney Wanderers and the Parramatta Eels; and we are seeing our people recognised too.
Nicole was honoured to receive her WSW Awards in 2018 and we felt that sponsoring a category in this year's awards was a fitting way to give back and pay it forward to other inspirational women.