ASC

team Shares the Dignity
THANK YOU for helping us make the recent Dignity Drive for Share the Dignity such a big success.
Here are some thought-provoking statistics:
On any given night in Australia, 1 in 200 people are homeless 

44% are female

27% are children under the age of 18

Family violence is the number one reason people present to homeless services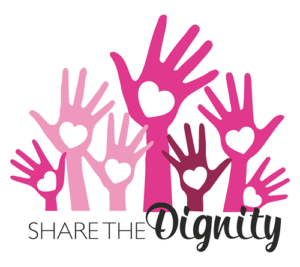 These are some of the reasons why the Ashbury Service Centre has chosen to support Share the Dignity, a charity which collects and distributes sanitary products for women in need, since early 2018. 
We were proud to be an official collection point for the charity's recent Dignity Drive – in fact, ASC is of the biggest collection points for Share the Dignity in Sydney's Inner West. And we thank you, our lovely customers, for your continued support and assistance with the success of the recent campaign.  
This year, our lovely Nicole was called up to be a 'Shero', an official volunteer for Share the Dignity, as recognition for all that ASC has done for STD. 
With your generous help and support during the Dignity Drive, we collected a whopping 206 packets – that's around 2500 sanitary items! 
In her Shero role, Nicole (with Manuel's help), delivered most of the donations to Metro Assist, who made their request for donations through STD. 
"It was rather amusing to see the two of us wheeling a trolley full of pads and tampons through Ashfield Mall," said Nicole. "We got some inquisitive looks when sanitary items kept falling off the overflowing trolley! Dad may have blushed a little, but it was so worthwhile to get those donations to women in need," she added.
The success of our collection centre even featured on Share the Dignity's Facebook page!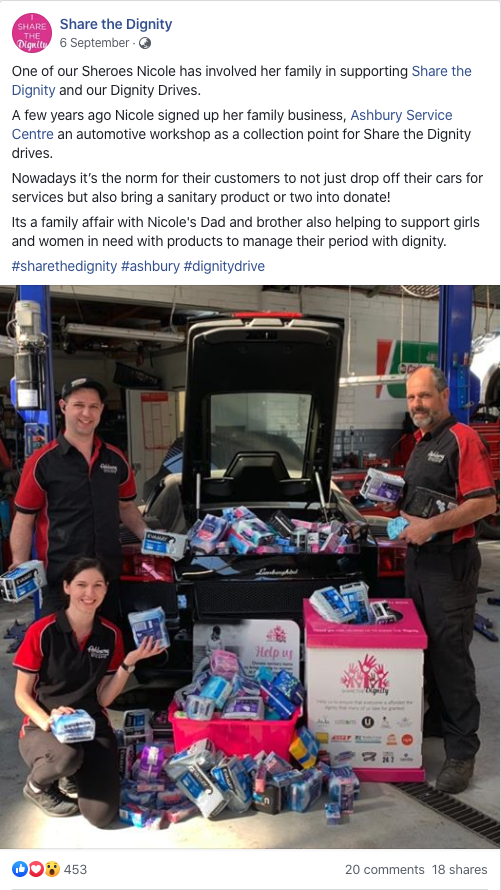 There were some additional donations (over and above the Metro Assist allocation), which were distributed to other charitable organisations throughout the Inner West. 
We would also like to acknowledge and sincerely thank the local businesses who joined us in supporting this worthy cause, as we couldn't have done it without their help. 
Hae Jung from K&T Legal
The friendly, expert team at K&T Legal have years of experience in evaluating and resolving your legal matters. If you have a legal problem, no matter how big or small, or require legal advice, we highly recommend you speak with K&T Legal – they'll help you find a solution to your legal issue. 
Dom & Annie from Little Monsters Swim School
Little Monsters Swim School is a fun and friendly AUSTSWIM accredited facility teaching vital water safety skills in a positive atmosphere, aimed at developing an efficient swim technique that will last the child's lifetime. We have used and highly recommend Little Monsters for swimming lessons.
Please remember … When you donate sanitary products to Share the Dignity, you're donating much more than pads and tampons. You're giving a woman experiencing homelessness or financial crisis the essentials, so she doesn't need to choose between food and dignity.
Once again, thank you for your support. Keep an eye out for the "It's in the Bag" campaign and let us know if your business would like to be involved in the next drive.