2019

– ASC's Year in Review
2019 has been a wonderful year for us, and while we're proud of our achievements this year, we know we couldn't have achieved so much without our amazing clients, the wonderful local community we're honoured to a part of and, of course, our awesome team. THANK YOU!
What's happened at Ashbury Service Centre in 2019?
WOW… What a year! Here are a few highlights showing just some of the ways we've grown, developed and served..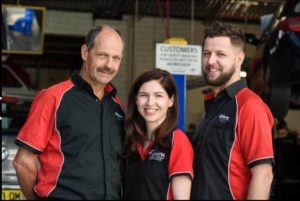 ASC celebrated 9 years in business and we're still going strong. Our success is largely due to our wonderful client-focused team, which is the best we've had since we started. Of course, a substantial factor in our success is our fabulous loyal customers – we wouldn't be here without you!
We became an Ironman 4×4 GVM Upgrade Supplier and Installer 
During 2019, ASC became the only Ironman authorised dealer in Sydney's Inner West. Ironman's products are designed in Australia and distributed all over the world. We are your one-stop-shop for all 4WD needs, including bull bars, canopies, roof racks, driving lights, snorkels, winches, suspension and so much more. We happily service 4WD owners from the Sydney CBD out to Fairfield and surrounding suburbs.
4 years of successful, informative Ladies Car Care Courses
These educational sessions empower women to understand their vehicle, learn basic car maintenance and understand the importance of regular safety checks and servicing. Dates for our 2020 Ladies Car Care Courses will be released soon. Be among the first to know, simply pop your name down on the waitlist here.
ASC became a Unitronic dealer – one of the select few in NSW 
Our team is passionate about maximising your vehicle's performance, and this is what prompted our exciting partnership with Unitronics. If you drive an Audi, Porsche, Skoda or Volkswagen vehicle, Unitronic products are engineered and manufactured to maximise performance, while maintaining complete OEM-like drivability and reliability. Want to know more? Ask our team.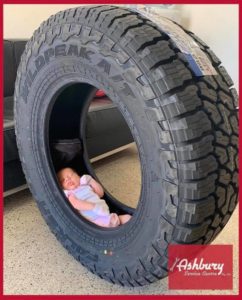 We welcomed yet another budding apprentice into the family business 

The fifth grandchild under the age of 5 was born in 2019!

Within another 15 years, they will all be on the tools / running the workshop. We truly are putting the 'family' into running a family business!!
Continuing our support for Share the Dignity
Led by Nicole, our team once again lent their support to the Share the Dignity charity for their April and August Dignity Drive. During these two months, ASC served as a collection point for hundreds of packs of sanitary products, which were then distributed to women in need in our local area. Another amazing effort supported by our wonderful local community!
During late November and early December, we were also the local collection point for STD's #ItsIntheBag campaign. Once again, our incredible customers and local community members answered the call, dropping off bags filled with essentials which will be handed to women in need during the festive season. Our workshop was filled to the brim! Without these generous donations, most of these women would not receive anything for Christmas.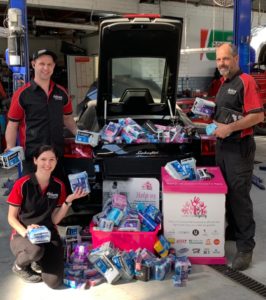 We were able to get a MASSIVE 650 bags together to be delivered to the Exodus Foundation. A huge THANK YOU to everyone who helped out on this very worthy initiative.
ASC sponsored the WSW Women in Trades Award
Earlier this year, ASC proudly sponsored the Outstanding Western Sydney Women in Trades category at the 2019 Western Sydney Women Awards. The purpose of the award was to recognise a woman excelling in business, and who had made a difference to Greater Western Sydney. The deserving winner was Karin Murton, Director, Karin Murton Hair Design, who has mentored 39 apprentices through their hairdressing apprenticeship into the trade, such an awesome effort Karin!
The ASC team is happy to be involved in initiatives undertaken by Western Sydney Women, and we will continue to support this forward-thinking organisation in the future.
Upskilling ASC team members

Danny and Nicole attended the AAAA Expo in Melbourne,

including attending a variety of information sessions and speaking with industry experts on automotive aftermarket products. This further enhances our knowledge and enables us to continue to improve our service offering;

To ensure ASC continues to deliver service excellence to our valued customers, Danny attended a short course on improving client communication, run through the University of Newcastle.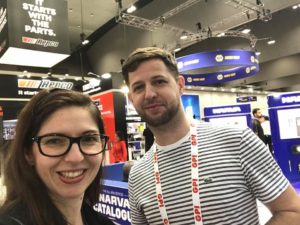 We were honoured with recognition for our efforts

Nicole was a finalist in the Businessperson to the Year category of the Local Business Awards. She was nominated for this award as recognition for running a successful business with a heart, leading community initiatives, continually being involved in community events and for being a role model to women in the automotive industry. 

For the service we deliver and the hard work our team puts in, ASC was named as a finalist in the Automotive Services category at the Local Business Awards;

We were also finalists in the Australian Small Business Champion Award
Community Collaboration & Support
This year, we collaborated with some great local businesses to run drool-worthy competitions for Valentine's Day and worked with the local Men's Shed to install our very own 'little library'. We also happily supported various local school fetes and fairs to help improve playground facilities, including Ashfield Public School and Croydon Park Public School and Kegworth– a local mums group raising funds for a womens community health centre.
---
We thank you for being part of our ASC family in 2019 and look forward to continuing to serve you throughout 2020. We re-open for business from Monday, 6 January 2020. Call us on 9716-6415 now to book your car in for its next service.